What is an Emergency Response Water Tank Stand Tower Kit?
In the aftermath of a rapid onset disaster, ensuring everyone has access to clean drinking water is one of the most urgent needs. Thankfully, many humanitarian organizations can quickly mobilize clean water treatment equipment and storage to the affected areas. Typically treated water is pumped to an elevated water storage tank or bladder and then gravity fed to a tap stand. However, while a majority of water systems can be functional within a couple hours, it can be challenging to quickly create an elevated storage area for the water.

The Areté Structures team, in conjunction with Samaritan's Purse, has pioneered an emergency response water tank stand kit to help fulfill that need. This kit will allow you to combine the water treatment equipment and storage with the tank stand to provide an ongoing elevated storage option.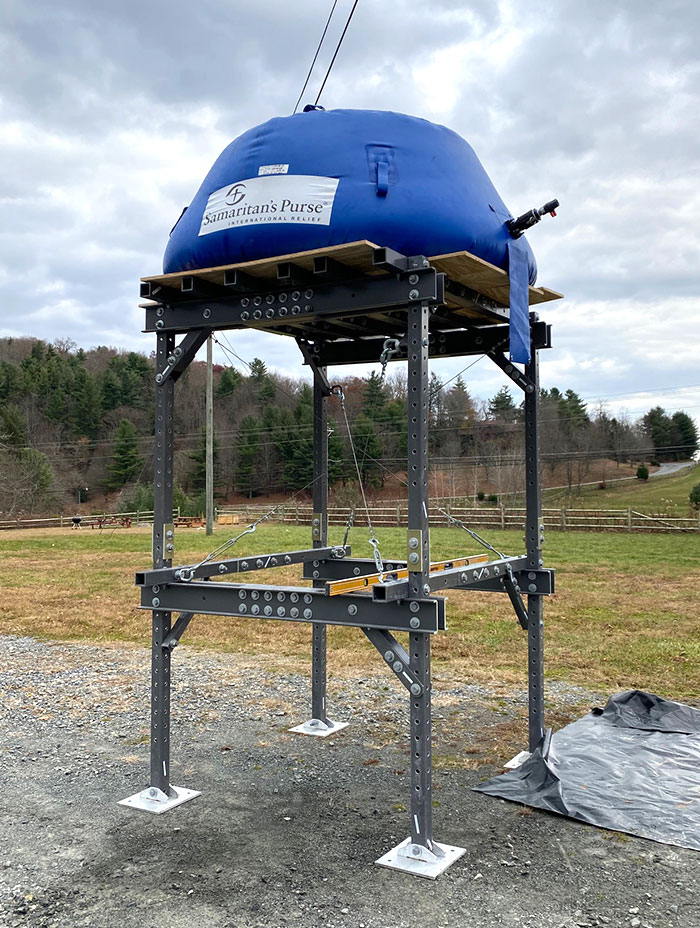 Areté Structure Water Tank Stand Options
The Areté Structures team has created a water tank stand tower kit to work with your water treatment storage options and landscape.
Tank Stand Features
The below items are essential and fundamental bridge elements.
Adjustable legs to accommodate uneven terrain.

Lightweight materials can be easily mobilized during a disaster.

Can be easily assembled within 1-2 hours by 3-5 people.

Customizable design to fit various bladder or tank sizes/configurations.
Access to a Licensed Engineering Firm
We partner with our sister company, Areté Engineers, for the structural design of the water tank stands. We will work with our engineers to customize your tank stand dimensions to fit various bladder or tank sizes and configurations.
Other Types of Water Tank Stand Options
FRP water tank stands are a quick, sturdy, and safe alternative to the following options that are often used in disaster relief.
Makeshift Tank Stands
To quickly elevate their water treatment equipment, tank stands may be constructed from local material, for example, local timber. Unfortunately, this option is often unsafe, especially over time.
Manufactured Tank Stands
These manufactured stands are usually very heavy, expensive, and may take significant take time to procure, mobilize to the site and construct.
Natural Terrain Tank Stands
Using existing topography may be the easiest and quickest option; however, often a pad needs to be leveled for the tank to provide stability.
Sandbags or Mounded Dirt Tank Stands
Sandbags are often an easy and cost-effective solution; however, they often take a few days to construct.
Areté Water Tank Stand Examples
Example of an FRP water tank stand being used in Haiti post-hurricane.
What is Fiber Reinforced Polymer?
Our tank stands are constructed using fiber reinforced polymer (FRP). FRP  is a highly lightweight and durable material with a  lifespan of 100+ years that requires minimal ongoing maintenance. Learn more about FRP benefits.
We Can Help You Provide Ongoing Clean Water
Contact us to learn more about our emergency response water tank stand kit.