In the fall of 2019 Areté Structures supplied a 30'x6' prefabricated equestrian bridge to the Maryland Department of Natural Resources.  The DNR reported that the bridge was built on site in January 2020 and the staff enjoyed putting it together.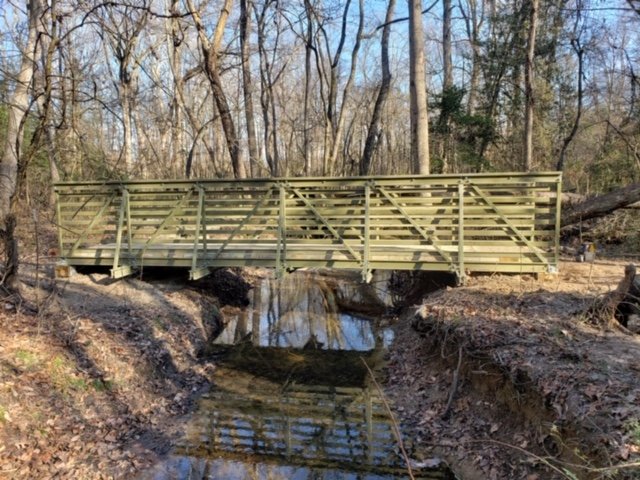 FRP BRIDGE DESIGN
BRIDGE STRUCTURE
30-ft length X 6-ft width

Minimum 54-in high railing

Max opening between railing less than 4-in.

FRP Composite Truss Design

Strongwell EXTREN® 500 Series Fiberglass reinforced polymer (FRP) Structural Shape.

Color: Olive Green
Aluminum Angle Mounting clips (for abutment attachment)
All hardware required for assembly will be hot dipped galvanized
DESIGN SPECIFICATIONS
90-PSF Pedestrian/ Equestrian Live Load

20-PSF Snow load

35-PSF Wind load

Bridge precambered equivalent to dead load deflection

AASHTO LRFD Guide Specification

Strongwell Design Manual

Drawings provided and sealed by a professional engineer licensed in the state of MD

Vibration Criteria: Greater than 5.0-Hz Vertical and 3.0-Hz Horizontal without live load

Bridge compatible with helical pile support system.

Abutment reactions will be provided with final design package. 

Total deadload estimate approximately 2,000lbs per abutment. 
DECKING
No. 2 Southern Yellow Pine 3"x12" timber decking