Prefabricated FRP Pavilion Kits
What is an FRP Park Pavilion Kit?
At Areté Structures, we design fiber reinforced polymer (FRP) park pavilion kits that will enhance nature's beauty while providing a safe and secure structure for visitors. The pavilion's design and material can withstand harsh weather elements without wear and tear. As a result, they require minimal ongoing maintenance and boast a long lifespan.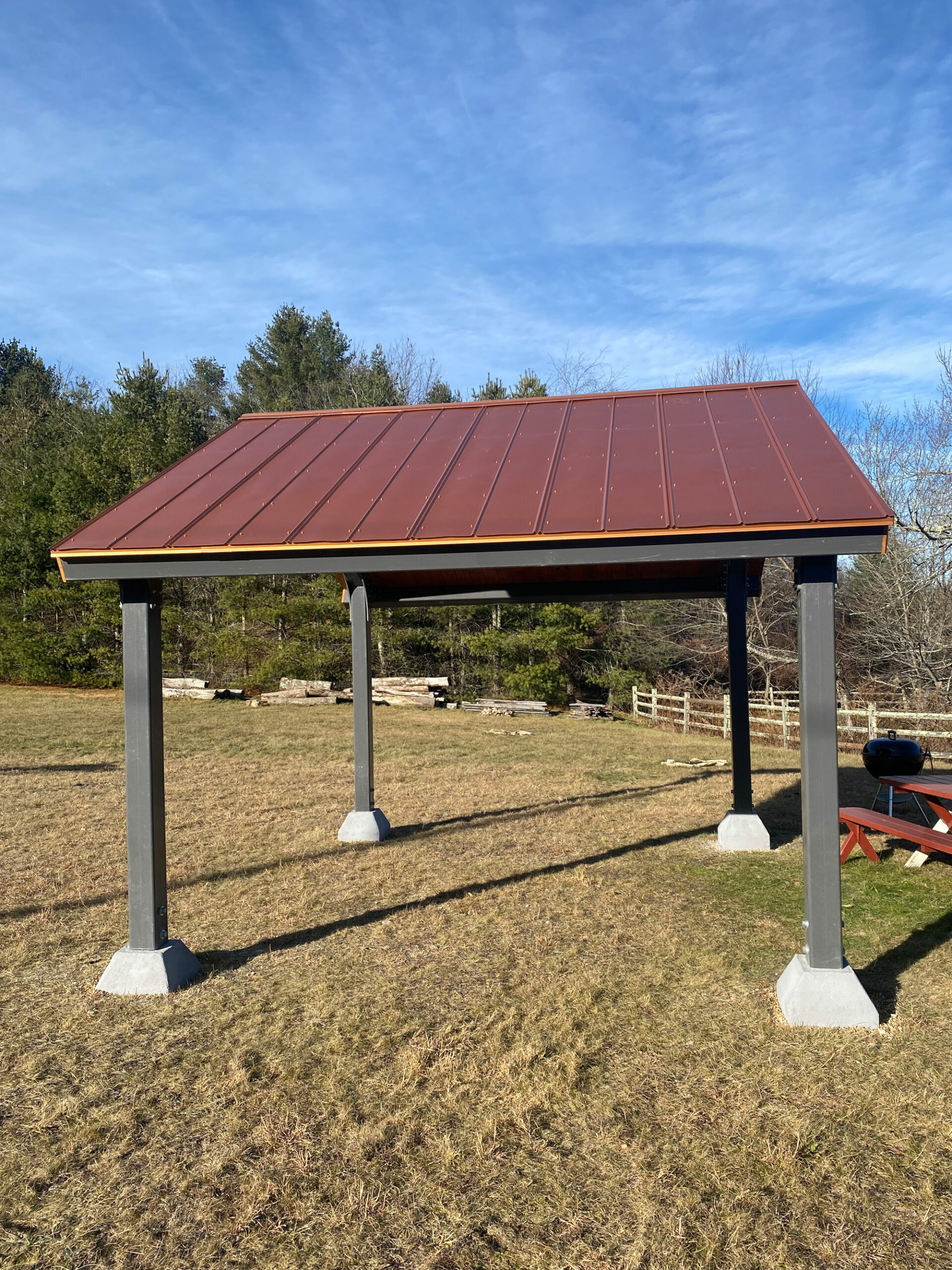 What is Fiber Reinforced Polymer?
FRP is a lightweight, high-strength material that can endure environmental elements, making it the ideal option for park shelters and picnic areas. Additional FRP benefits include the following.
Quick and Easy Installation
Moveable

Corrosion-resistant

UV resistant

Extreme durability 

Minimal ongoing maintenance required 

100+ year lifespan 
Learn more about the FRP process here.
Areté Structures Pavilion Design
At Areté Structures, we can customize your park pavilion design to meet your specifications. We work with our sister company, Areté Engineers (a Licensed Engineering Firm), to ensure your pavilion meets safety and compliance standards. The pavilion structure uses FRP, and the roofing uses timber and steel.
Park Pavilion Kits Sizes Available
14×14 – easily fits two 6-foot-long picnic tables

20×20 – easily fits four 6-foot-long picnic tables 

20×40 – easily fits four 8-foot-long picnic tables
All pavilions can be made modular by stringing them together to create an even larger structure!
FRP Pavilion Kit Features and Benefits
When you choose to purchase an Areté Structures FRP park pavilion kit, you can expect these features and benefits every time.
Made in the USA

Precision CNC machinery fabricates all components 

Minimal ongoing maintenance 

Some FRP structures have reported a 100+ year lifespan
Assembly and Installation
FRP is an extremely lightweight material which results in more affordable shipping rates for your pavilion kit. 
Here's what you can expect once your park pavilion kit arrives onsite.
All pieces are shipped as a kit, so it arrives at the same time 

Kits come ready to assemble

Easy and fast onsite construction process 

Simple to follow instructions 

24/7 support
FRP Park Pavilion Kit Example
Work with Trustworthy Pavilion Builders
Areté Structures is a veteran-owned business. We build all pavilions in-house in Boone, NC. Our team will work with you to manufacture an aesthetically pleasing structure that will last for years to come. Then when you're ready to assemble the pavilion, a project manager will be available to answer your questions.
Contact us to learn more or request a quote!