Pedestrian Bridge Design
At Areté Structures, we supply our customers with prefabricated pedestrian and equestrian bridges. We assist with your bridge project from the design process to delivery with an on-site, easy-to-follow set of pedestrian bridge assembly instructions.
Pedestrian Bridge Design Process 
We partner with our sister company, Areté Engineers, a licensed engineering firm, during the pedestrian bridge design process. Areté Engineers can assist with the planning and design phases of your project. 
If needed, Areté Engineers can provide a full design package stamped by a professional engineer. 
Each Areté Structures bridge:
Is custom-designed using the Allowable Stress Design (ASD) Method and/or AASHTO specifications. 
Size and loading conditions provide the most cost-effective and optimized design for you. 
All engineering services are contracted to and provided by Areté Engineers, PLLC or another licensed engineering firm.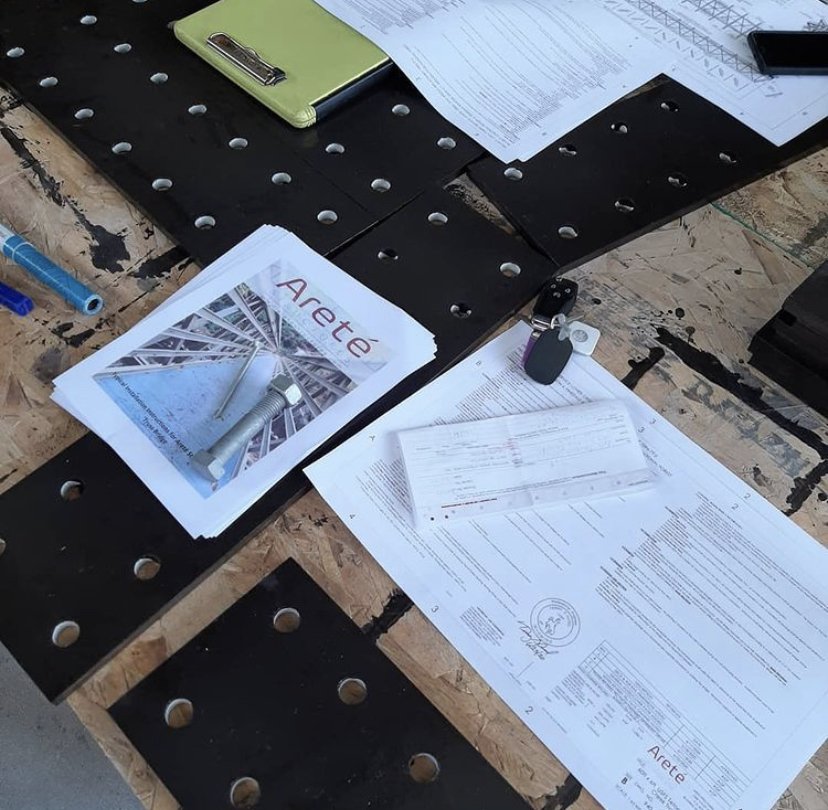 3 STRUCTURAL DESIGN OPTIONS
Truss Design
The truss design is the ideal bridge for clearspans ranging from 25-80 ft long. Inherent in the truss design, this bridge will always come with a railing. The truss is the most cost-effective design for a longer clearspan. 
Stringer Design
The stringer design is made specifically for shorter spans ranging from 10-24 ft long. Designed as a boardwalk-style bridge, it doesn't include a railing or curb. Stringer requires less material for design, which results in less cost per foot. For instance, if designed using a 12″ fiber reinforced polymer (FRP) I-beam would be lighter weight than a steel bridge. 
Underslung Truss Design
The underslung truss design ideal range is 40-65 ft long. This bridge design is unique to Areté Structures. All the structural members are below the bridge decking. An underslung design is an excellent solution for customers who would like to provide their own decking and railing material for aesthetic or functional purposes.  
Environmental Considerations
Areté Engineers can provide a review of geotechnical soil reports. Additionally, they can provide foundation and abutment designs to support the bridge. 
Standard Features on Areté Structures Bridges
The below features come standard on all Areté Structures bridges (unless otherwise noted).
Camber
Standard, positive fabricated mechanical cambers are used on all bridge types. Areté Structures is the only bridge manufacturer to provide this type of dead load camber. 
End Type
Choose from straight or sloped ends. If you are building an equestrian bridge or the bridge needs to accommodate light vehicles (ATVs, Gators, etc.), sloped ends are required. 
Hand-Railing Height
All pedestrian bridge handrails will be 42″ or 54″ above floor decking. If building an equestrian bridge, the handrail will be 54″. 
Hardware
Standard A307 hot-dipped galvanized steel comes standard on all bridge types. An optional upgrade with stainless steel is available. 
Resin
Strongwell's patented EXTREN 500 Series non-fire retardant is included. Fire retardant resin upgrades are available. 
Safety Mid-Rails
They are standard on all bridge types. There is a 4″ maximum spacing for ADA compliance.
Pedestrian Bridge Options Areté Structures Bridges
Please keep the following considerations in mind when selecting your pedestrian bridge design options. 
Finish / Color
The standard bridge color is Olive Green. This is the recommended color for all park and trail bridges. Custom colors are available for an additional fee; please provide the RAL# with your color choice.
Fabrication
The hole location and profile tolerance of +/- 1/16″. These are the profile dimensions required, set forth in ASTM D3917.  
Decking
You can select from 4 material options.
Standard 2″x12″, #2 pressure treated Southern Yellow Pine

24″ wide Safplank fiberglass decking (optional upgrade)

8″ wide Heavy-Duty fiberglass decking (optional upgrade)
Please note: Wood decking or Heavy-Duty fiber reinforced polymer (FRP) are required for equestrian bridges.
If you select FRP decking, it will include an anti-skid grit coating. Optional holes or slots can be CNC-routed for water drainage. 
Our Other Pedestrian Bridge Services